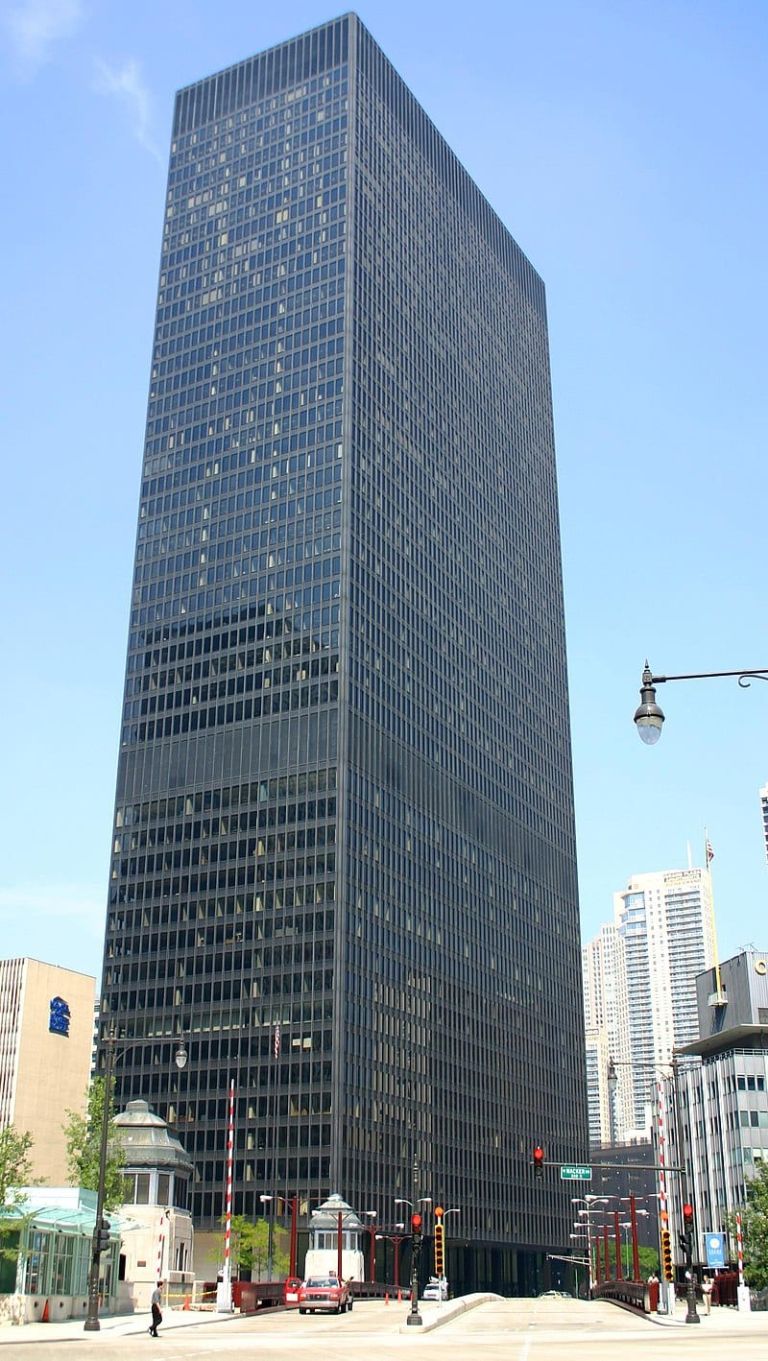 Morgan Stanley and Goldman Sachs have provided a $370 million loan to Beacon Capital Partners for AMA Plaza — a 1.2-million-square-foot trophy office tower at 330 North Wabash in Chicago, Commercial Observer has learned. 
The financing is collateralized by the riverfront tower's office component, while The Langham Chicago  —  a five-star luxury hotel that occupies floors two through thirteen — is not part of the loan collateral.  
Eastdil Secured's Grant Frankel and Sam Supple negotiated the five-year, floating-rate loan, sources said, which will have a single-asset, single borrower (SASB) CMBS execution. A spokesman for Eastdil Secured declined to comment. 
The deal marks one of the largest office financings to close since the pandemic hit 15 months ago. 
The 52-story building was built in 1973 and is the last structure designed by famed architect Ludwig Mies van der Rohe — who died in 1969, prior to construction commencing. It sits in a prime location on the Chicago River, with views of the the cityscape and Lake Michigan, and within walking distance to Chicago's retail hub on North Michigan Avenue, Millennium Park and the city's business district. 
It was once known as the IBM Plaza until the technology firm sold it to Blackstone in 1996. In 2011, the American Medical Association moved its headquarters to 330 North Wabash and the building was renamed AMA Plaza. Beacon Capital Partners acquired the asset in 2016, paying roughly $470 million according to an Crain's Chicago Business article at the time. 
Today, the building —which was declared a Chicago Landmark in 2008 — is 94 percent leased to a variety of tenants, including its namesake and law firm Latham & Watkins. 
The Langham Chicago opened in 2013 and is continuously recognized as one of the top hotels in the U.S. today.  Its 268 rooms and 48 suites include floor-to-ceiling windows, and it offers numerous dining options in addition to upscale amenities such as a spa and swimming pool. 
As for the office component, film fanatics may recognize the building from Christoper Nolan's 2008 movie, The Dark Knight. AMA Plaza served as the Wayne Enterprises headquarters as well as the offices of the Mayor and Police Commissioner Harvey Dent. Holy smokes, Batman! 
Officials at Morgan Stanley, Goldman Sachs and Beacon Capital couldn't immediately be reached for comment late Wednesday.
>>>#ad: Don't Miss Today's BEST Amazon Deals!
Originally Appeared Here