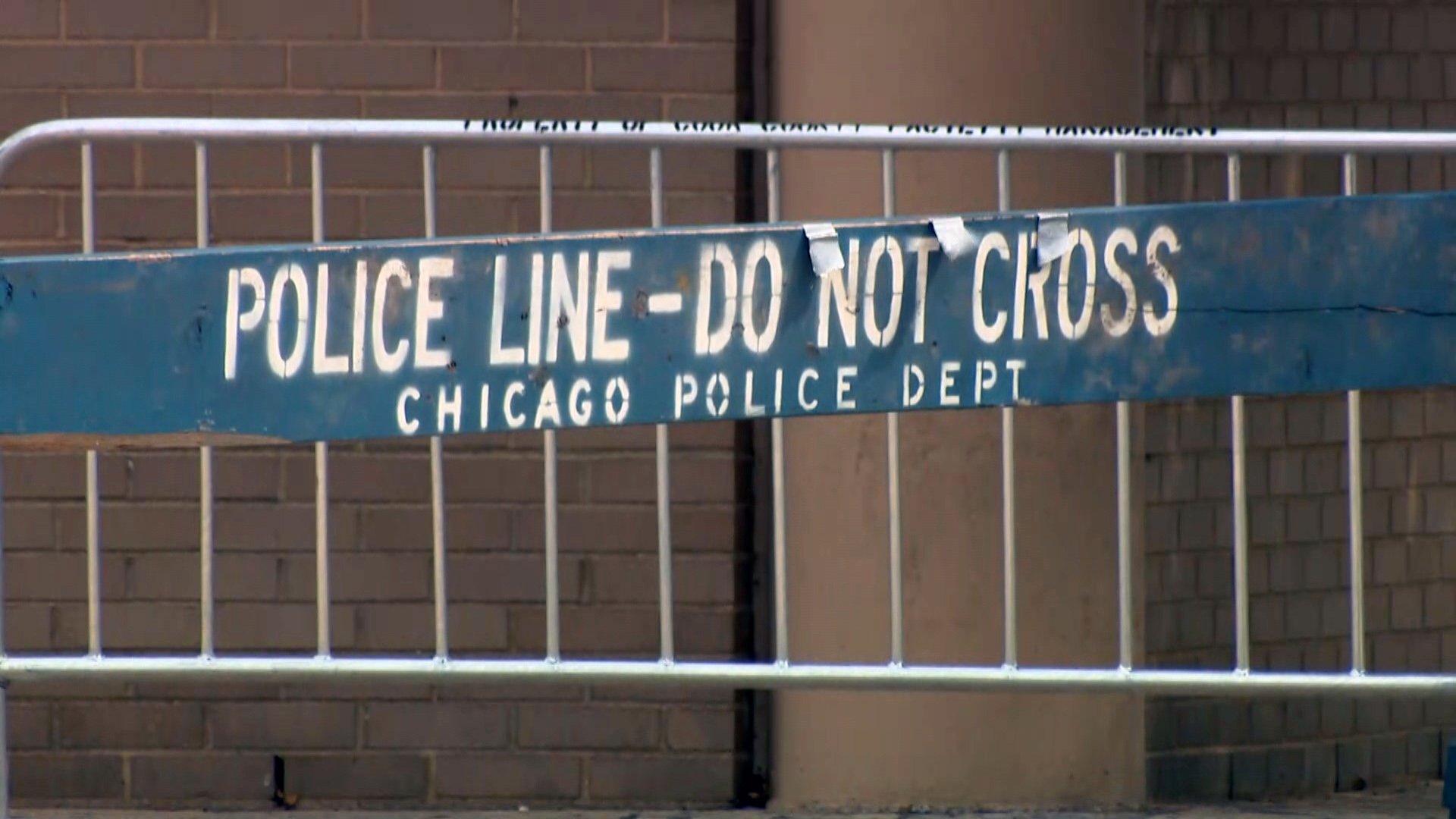 A file photo shows a crime scene blocked off by the Chicago Police Department. (WTTW News)

An employee at a Northwest Side auto body shop is accused of nearly decapitating one of his co-workers with a machete and attempting to conceal the body inside the trunk of his car earlier this week.
Martin Molina, 21, was held without bail Friday on a charge of first-degree murder in the "extremely vicious" killing of 42-year-old Felipe Villalobos-Calderon, who died after being struck multiple times in the head and neck with a machete.
During a hearing Friday, Cook County prosecutors said the homicide occurred Wednesday morning at a body shop on the 5800 block of West Grand Avenue in the Belmont Cragin neighborhood.
According to Assistant State's Attorney Kevin Deboni, Villalobos-Calderon was an employee at that shop and had showed up that morning at 9:30 a.m. to do some work on his own personal vehicle. Molina, who also works at the shop with his father, arrived there about an hour later and can be heard talking with Villalobos-Calderon on surveillance footage taken from a camera in a separate part of the shop.
The two cannot be seen on any video, Deboni said, but Villalobos-Calderon can apparently be heard speaking in Spanish, saying something to the effect of "Ow, what, stop messing around a**hole" and pleading with Molina to calm down.
Villalobos-Calderon said "I'll leave, I'll leave" before his voice abruptly stopped and multiple "thumping" noises were heard on the video, according to Deboni. The Cook County Medical Examiner found Villalobos-Calderon died of "multiple sharp force injuries" as he had multiple lacerations to his face and a "gaping" wound to his neck.
Molina allegedly attempted to clean the murder scene using a power washer. Another employee arrived at the shop minutes later and found Molina "covered in blood" on his clothing and hands, and jokingly asked if Molina had "killed someone," Deboni said.
Molina said he had been in a fight, and the other employee left to call 911. Molina allegedly told another employee that he had injured himself, but he refused to accept any medical attention.
At some point Molina allegedly loaded Villalobos-Calderon's body into the trunk of his car and left the body shop, but his father convinced him to come back and meet at a nearby tow yard.
When they got there, Molina's father asked his son in Spanish "Where's Felipe?" and Molina allegedly responded by gesturing toward the trunk of his car. Chicago police officers eventually arrived on scene and found a shovel alongside Villalobos-Calderon's body in the trunk.
After he was arrested, Molina did not admit to the killing, but he did tell investigators that it was Villalobos-Calderon's blood on his clothing, Deboni said.
The public defender representing Molina during Friday's hearing said her client has suffered from "mental breakdowns" in the past that have required hospitalization. She suggested it was possible that Molina and Villalobos-Calderon had gotten into a fight, and this triggered yet another break.
However, Deboni noted that Molina did not have any defensive wounds on his body.
During Friday's hearing, Cook County Judge Susana Ortiz acknowledged Molina's mental health history, but still denied bail, saying the killing appeared "random" and was "extremely violent, extremely vicious."
Molina is due back in court May 6.
Contact Matt Masterson: @ByMattMasterson | [email protected] | (773) 509-5431