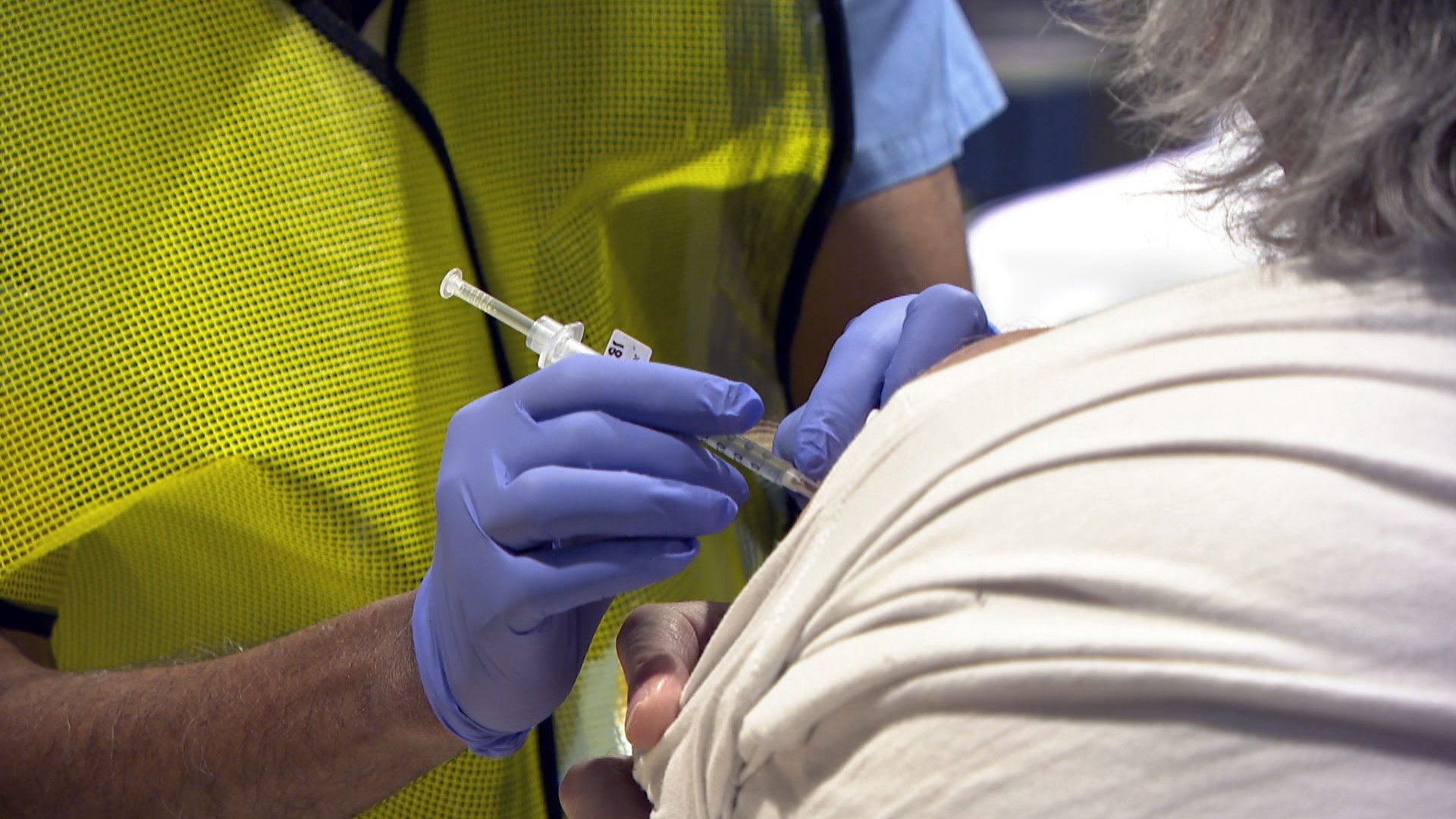 (WTTW News)

Residents of suburban Cook County who are white or Asian are outpacing their Black and Latino counterparts in getting vaccinated against COVID-19.
Approximately 23% of white residents and 25% of Asian residents have been fully vaccinated, according to newly released data from the Cook County Department of Public Health. That's compared to only 14.8% of Black residents and 10.4% of Latinos, even though they are more likely to contract the virus and experience severe illness or die from it.
The disparity in vaccinations is even more pronounced when comparing the rate of vaccinations to the proportion of the overall suburban Cook County population.
While white residents make up roughly 57% of the population, Asians account for just 6.5% — far less than Black residents (16%) and Latinos (19.3%).
While Black and Latino residents make up a smaller portion of those vaccinated, progress has been made.
As recently as March 21, only 12% of Black residents and 8% of Latinos had received at least one dose of the vaccine, compared to 20% of whites, according to Cook County data. At that time, the county was only vaccinating essential workers and residents ages 65 and older.
To combat inequities in vaccine distribution, officials announced last month they would focus their efforts on 32 municipalities that are predominately communities of color and have been hardest hit by the coronavirus pandemic.
These communities are the most vulnerable in suburban Cook County, according to Dr. Kiran Joshi, co-lead for the Cook County Department of Public Health.
"Ensuring the residents of our most vulnerable communities, particularly our Black and brown communities, are vaccinated is the right thing to do, but it's also good public health because it ensures that everyone in suburban Cook County is protected," Joshi said at a Wednesday news conference.
Joshi said the racial disparity in vaccination rates relative to population figures is an issue, but officials "are prepared to respond."
To ensure equitable distribution of the vaccine, officials have launched a mobile vaccination program, hosted pop-up events in the 32 communities disproportionately impacted by the virus and reserved appointments at mass vaccination sites for community groups to register their clients and patients.
Those efforts have paid off. In west suburban Berkeley, only 8.3% of residents were fully vaccinated as of March 21. That's increased to 23.9% of residents as of Tuesday.
In neighboring Melrose Park, the percentage of fully vaccinated residents rose from 8.7% as of March 21 to 23.8% as of Tuesday, according to county data.
On Wednesday, officials began testing walk-in appointments at the Tinley Park and Matteson mass vaccination sites and plan to expand hours at vaccination sites to accommodate people who can't take time off work.
Of all eligible suburban Cook County residents – those ages 16 and older — more than 51% have received at least one dose of the COVID-19 vaccine, according to officials.
But even with that progress, officials acknowledged there's work to do, especially in terms of encouraging individuals to get vaccinated.
"We're going to have to change hearts and minds to be vaccinated. We're going to have to encourage them to come forward," said Cook County Health CEO Israel Rocha, who called on residents to share their vaccination experiences with those who may be hesitant.
"It's going to take all of us working in coordination and in concert to read the science, to understand the data and to make that decision for them and their family to get vaccinated," he said. "Each one of us has the ability to save a life or save the life of many, depending how much want to discuss publicly the true facts about the vaccine and COVID."
Note: An earlier version of this story incorrectly stated the percentage of suburban Cook County residents who have been fully vaccinated. It has been updated. 
Contact Kristen Thometz: @kristenthometz | (773) 509-5452 |  [email protected]