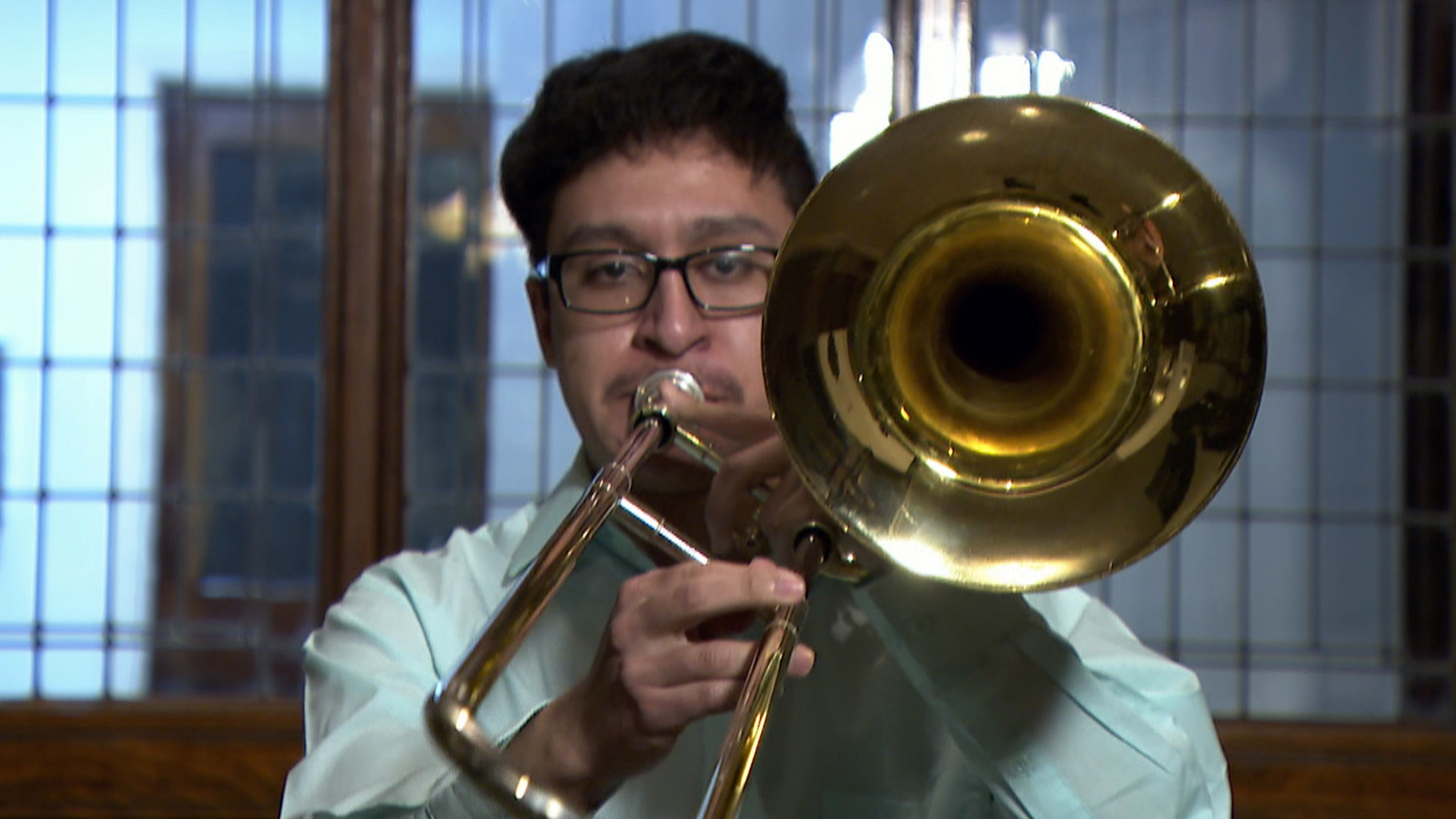 In February, WTTW News met four teenagers participating in the Chicago Musical Pathways Initiative, a program that helps students pursue careers in classical music.
Brooks College Prep senior and CMPI student fellow Rafael Noriega, 17, began playing the standard trombone in the third grade, but he made the switch to the bass trombone at the prompting of his trombone instructor.
"What really drew my attention to it was the slide — that's the part of the trombone you use in order to play different notes on the instrument. Unlike trumpets, we have to press valves or the flute, we have to press a whole bunch of keys. In 8th grade I made the transition to bass trombone because I'm part of the program called the Merit School of Music, which at the time the school needed a few more bass trombone players. And the trombone instructor chose to switch me to become one because he saw that there was so much potential in me on playing this instrument."
Noriega says part of the trombone's charm is how it makes its presence known in an orchestra.
"I also love how unique [the sound] it is compared to most instruments of the orchestra. Because in an orchestra there's only one bass trombone … you're not sharing your part with anyone else. And when the moment comes with the bass trombone, you can, you know, just really lay the hammer down, you can play really loud and it will be heard across the entire hall."
He points to how Hollywood scores demonstrate the bass trombone's force.
"In the movies Star Wars, How to Train Your Dragon, Harry Potter, all these composers wrote really amazing parts for these instruments. And when there's a scary or very intense scene [in a] movie where the bad guy or the antagonist is revealed, the bass trombone is used to symbolize and give more intensity to the scene."
Noriega says his career ambitions are as big as his instrument's sound.
"I want to pursue major music performance, but ultimately what I want to do, what my ultimate dream is, is to play in a professional orchestra, like the Chicago Symphony, the New York Philharmonic. I also want to teach because I want to help any young aspiring trombonist achieve their dreams and help … show them that anything is possible, you just need to work really hard in order to achieve it."
Here, Noriega shows off the singular sound of the bass trombone in a performance of Concerto in One Movement by composer Alexander Lebedev.