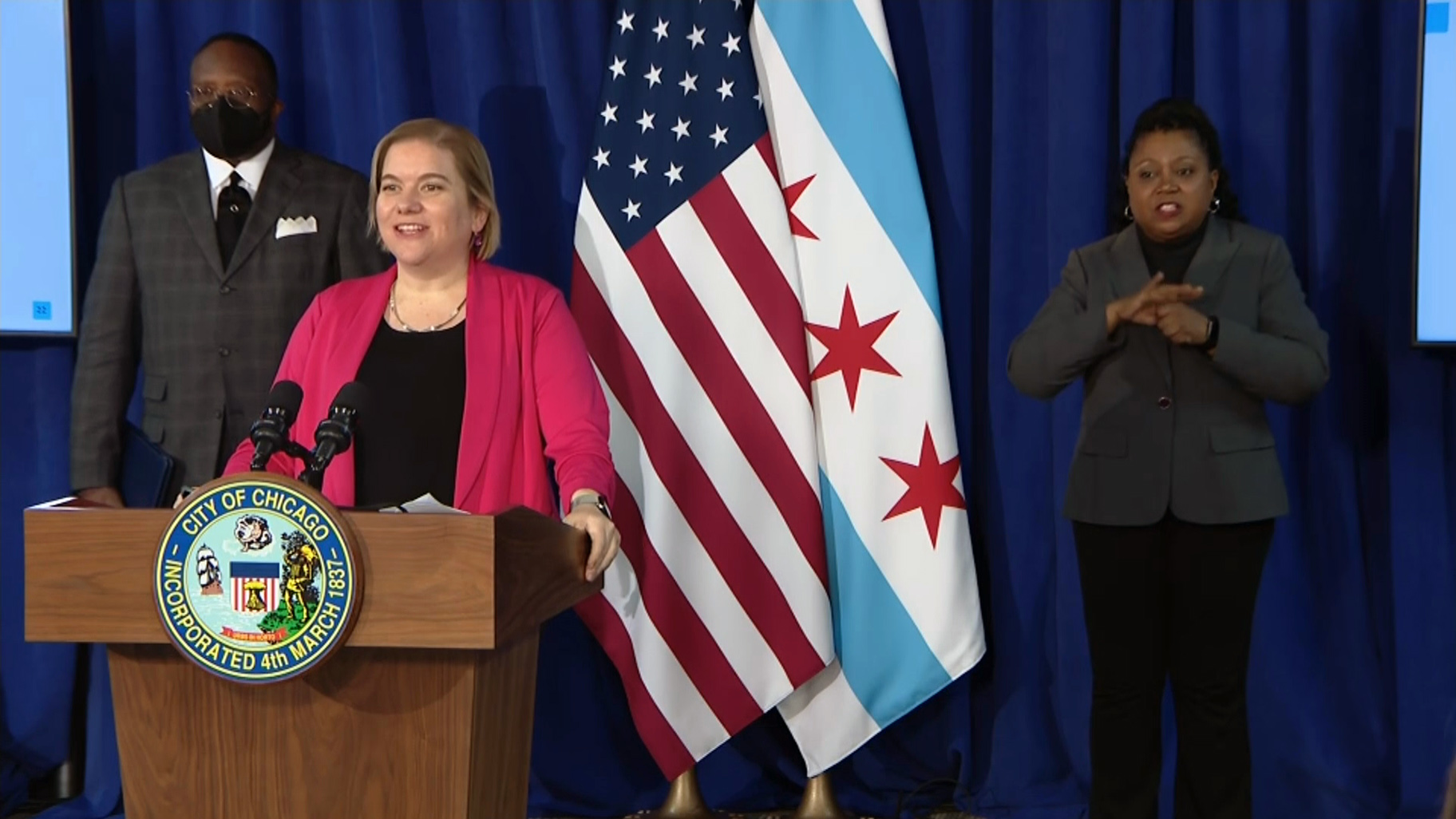 Vaccine eligibility is expanding to a new wave of people.
 Chicago is opening all city operated COVID-19 vaccination sites to children ages 12 through 15, starting Thursday.
The move was prompted by the Food and Drug Administration authorizing emergency use of the Pfizer vaccine for that age group.
"The news for children for the Pfizer vaccine for children looks really good—safety profile was great, the efficacy profile, meaning how protective the COVID vaccine was, was really good," said Commissioner of the Chicago Department of Public Health Dr. Allison Arwady Tuesday. "And the part of the study with the volunteers, there were actually no cases of COVID in the children who got the vaccine and no serious side effects." 
Chicago's public health commissioner, Dr. Allison Arwady, announces all city-operated COVID-19 vaccination sites will be open to children 12 and up, May 11, 2021. (WTTW News)

WTTW News spoke with Dr. Allison Bartlett, a pediatrician and associate professor of the pediatrics section of infectious diseases at University of Chicago Medicine to learn more about this age group receiving the vaccine.
Why do you think it's important to get children vaccinated?
We know, fortunately, that kids don't get as sick as we know as older adults can with COVID. But it really is the fact that they can get infected and can transmit to other people and can have rare side effects. We also don't know a lot about what the long-term impacts of COVID are on children and we've definitely seen kids who have long COVID syndrome. There's a lot we want to be preventing.
Will there be settings where vaccination of this age group is required?
I think we may head in that direction. Certainly, there are other immunizations we require for children who go to school. And there's many universities and colleges that have been requiring vaccination. I think we're not quite there yet for the school age kids, but I suspect in the future we would head in that direction.
How crucial is vaccinating children to get to herd immunity?
Herd immunity doesn't care how old you are. They care that you are a member of the population. And kids make up a significant percentage of the population and so really it is essential that we vaccinate our children in addition to our adults.
In a recent study 29% of adults said they would get their child vaccinated right away. 32% said they'll wait to see how it is working. Is this surprising to you?
I think it was pretty disappointing to hear those numbers. And I'm hopeful that the tide will change quickly as we saw with adults where the hesitancy was there initially and then started to taper off. I think, reassuringly, that some studies have asked children 14-19 what they think about getting vaccinated. And they were much more positive about getting vaccinated than some of their parents were.
How do pediatricians, public health officials get parents on board?
One thing pediatricians do really well is vaccinate kids and talk to parents about the importance of vaccination. Having those one-on-one conversations with the family about the safety of the vaccine, the potential impacts of COVID in your child or your loved ones that the child encounters is really, I think, the way we need to address this.
How soon do you think we'll see vaccine availability for younger kids?
I have a 9-year-old and 11-year-old twins who turn 12 in October and so I don't know if they're going to get the vaccine for 12-year-olds or if the 11-year-old vaccine will get approved in time. The latest I've heard is they're hoping by September to have that approved for the 5 to 11 age range. I think it's unlikely we'll have those kids fully vaccinated: the two doses and the two-week period of the second dose before we get back to school, but we'll be in a much better position than we are now.
What do we know about how routine this vaccine will be, whether and when we'll all need boosters?
I think the answer is probably going to be yes. We don't know how long immunity to natural infection, or the vaccine lasts. We also know that one aspect of the booster dose vaccine that the scientists are working on provides better coverage for some of the variants we're seeing circulating. It may not be that your immunity is the issue, it's that [there are] new variants that we want to make sure we protect [from], whether that's going to be an annual thing like flu shots, or in 10 years like a tetanus booster—that's unsettled. But I suspect we are not in a 'two doses and you're done for your lifetime' situation.