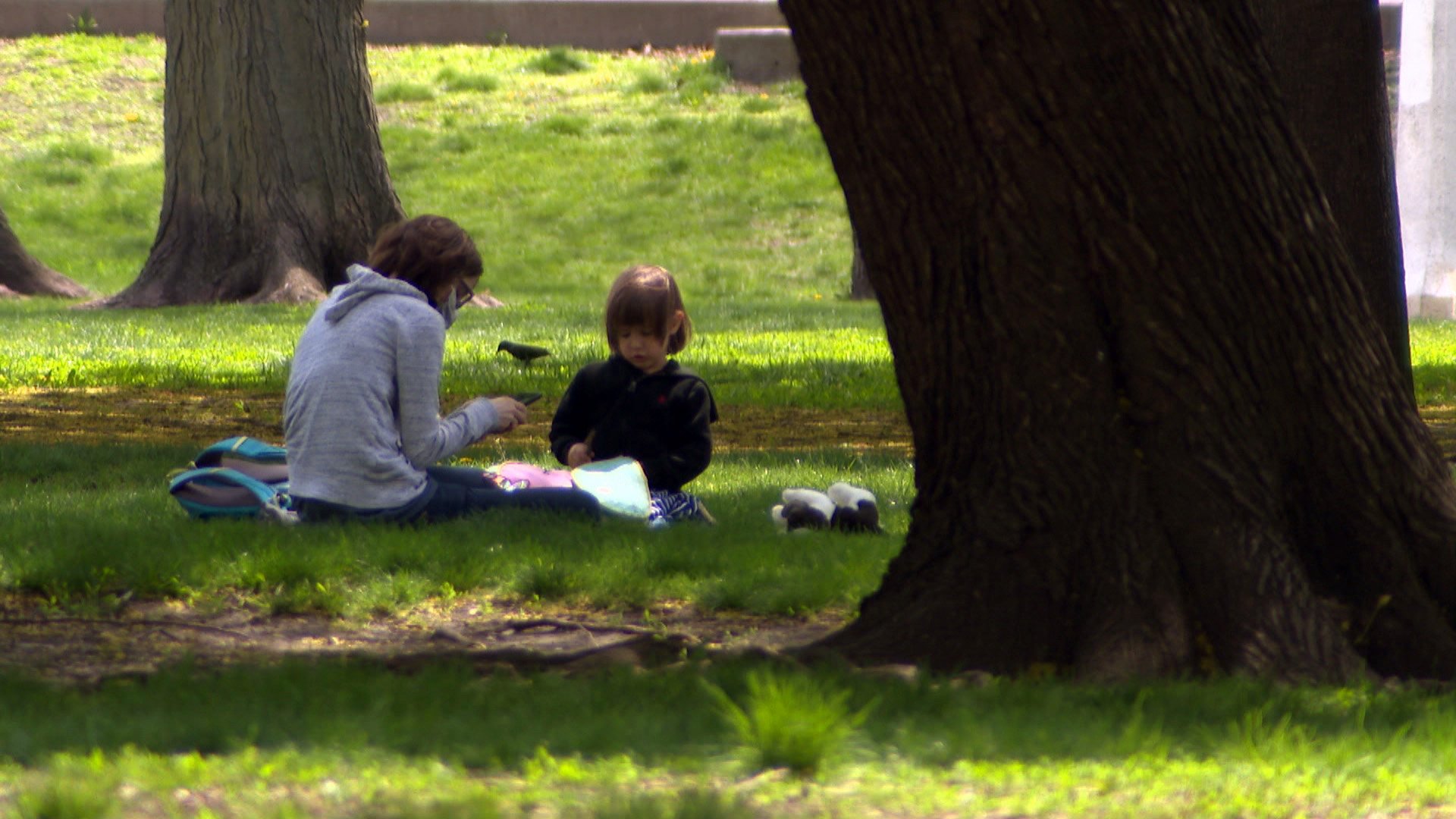 It was a good day for a picnic in Chicago on Tuesday, until the weather changed. (WTTW News)

Chicago went from tank-top to sweatshirt weather in a matter of minutes on Tuesday in one of the wildest temperature swings the city has ever seen.
The day started on a high note, with the mercury hitting 87 degrees at O'Hare, tying a record high set back in 1986. Folks flocked to the lakefront, parks and outdoor patios to soak up the warmth, but Mother Nature had a surprise in store.
A cold front combined with a lake breeze sent temperatures plummeting 30 degrees in just 20 minutes at Northerly Island, according to the National Weather Service.
It was one of the biggest, fastest drops recorded, matched only by a 27-degree freefall that took place in 10 minutes on April 20, 1936. 
Here's how it all played out:
Chicago O'Hare tied its record high temperature of 87 degrees today! The previous record was set back in 1986.
— NWS Chicago (@NWSChicago) April 28, 2021
People are at the beach pic.twitter.com/70G6dLJk46
— Robert Loerzel (@robertloerzel) April 27, 2021
Here comes the lake breeze
Currently at 6:00PM
55 in Waukegan
85 at O'Hare pic.twitter.com/vR3SqRr1Ih
— (@WindyCityWxMan) April 27, 2021
Chicago: Did you all just feel the temperature drop dramatically over the course of one second?
— donna. (@andshewas) April 27, 2021
The Chicago downtown observation site (Northerly Island) fell 30 degrees in about 20 mins (84 to 54 from 6:45 to 7:05)! Similar drops will be felt within a couple miles of the lakeshore, while less drastic but still abrupt drops further inland in the metro through 9 p.m. https://t.co/GWEjZXX4p1
— NWS Chicago (@NWSChicago) April 28, 2021
Another very Chicago thing is when you experience a gust of wind and a 20° drop in temperature and then come onto Twitter and people are all talking about it. (I was walking down Clark Street and BOOM, it wasn't hot anymore.) https://t.co/CScOXb4Hav
— Tony "I'm Tired" Breed (@tonybreed) April 27, 2021
Contact Patty Wetli: @pattywetli | (773) 509-5623 |  [email protected]