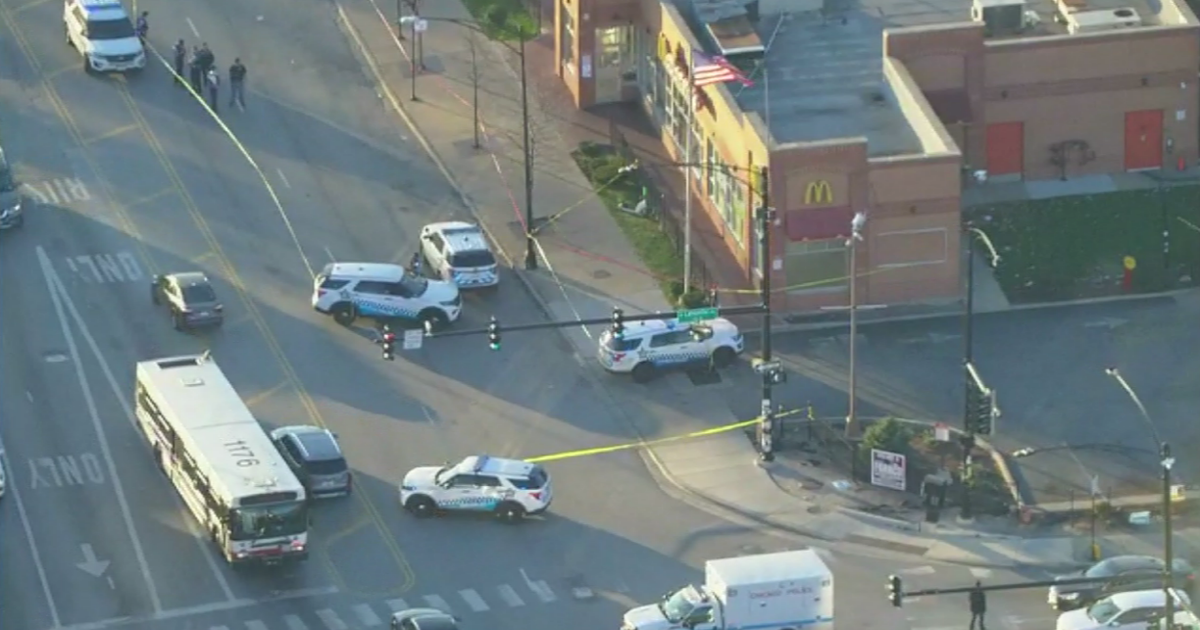 CHICAGO (CBS) – A man died and two other people were hospitalized after being shot in front of a McDonald's in the near 95th Street and the Dan Ryan Expressway on Thursday.
The victims, a 27-year-old man, 29-year-old man, and a 49-year-old woman were on the sidewalk in the 0-99 block of 95th Street when they were shot by an unknown offender, Chicago Police said.
The 29-year-old man sustained multiple gunshot wounds to the body and was taken to Advocate Christ Medical Center in Oak Lawn, where he was pronounced dead.
The 27-year-old man was shot in the back and taken to Advocate Christ in good condition. The woman was taken to the University of Chicago Medical Center with a gunshot wound to the right arm in serious condition.
CBS 2's Marybel González talked with antiviolence activist Pastor Donovan Price of the victim advocacy group Solutions and Resources. Price's New Progressive Missionary Baptist Church is located just down the street from the crime scene.
Price said he was saddened to hear about the incident – not only because of t those killed and injured in the shooting, but also because it is on a corner where he conducts a lot of his antiviolence outreach.
On Thursday night, crews boarded up the McDonald's at 36 W. 95th St. – also close to the 95th Street Red Line terminal.
"Apparently, a car pulled up, and that individual who opened and shot at least 29 shell casings I counted – so it was quite a shooting," Price said.
It is unclear if the three people who were shot are related, or if they were the target of the shooting.
"One of the young men that got shot – he went running back into McDonald's, and a CTA bus driver – bus operator – caught him as he fell," said a woman who witnessed the shooting. "One ran around the back by the Maxwell Street hot dog stand, and he succumbed to his injuries – he fell."
At the scene, clothing and bullet casings were left scattered all over the sidewalk.
"Tragic at such a busy street – almost during rush hour time, Pastor Price said. "What could've happened is perhaps what we should be thankful for in the midst of the tragedy."
Price said his personal familiarity with the area and his activist work there makes it all the more painful.
"I spend a lot of time there praising God and praying for the neighborhood that unfortunately today had a rough day – took a turn for the worse," Price said.
Police late Thursday were still investigating the shooting, and as of Thursday night, no one was in custody.
Area Two detectives are investigating.
>>>#ad: Don't Miss Today's BEST Amazon Deals!
Originally Appeared Here