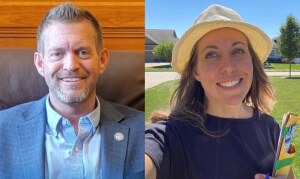 Herb Strentz reflects on Republican Jake Chapman's claim that his Democratic opponent Sarah Trone Garriott is a "radical activist."
Fear-mongering and baseless campaign attacks against candidates for public office are not restricted to Iowans who dare to seek election while being Black—as is the case for Deidre DeJear, Iowa's Democratic candidate for governor.
Yes, commentators from Bleeding Heartland to the Des Moines Register's editors have rightly condemned Governor Kim Reynolds' ads against DeJear as race-baiting.
And yes, "politics ain't beanbag." It's not for the thin-skinned.
That "beanbag" contrast is as true today as it was in 1895, when Finley Peter Dunne quoted his fictional character, Mr. Dooley, pontificating about rough-house Chicago politics.
In fact politics may be even less "beanbag" today, when federal laws prohibit broadcast stations from editing or refusing to run campaign ads even if the ads are clearly false, misleading, or maybe obscene. (Under the First Amendment, newspapers largely can do what they want with campaign ads; licensed broadcast stations cannot.)
So candidates are free to counter campaign broadcast ad lies by an opponent with lies of their own. Voters have to sort it out and even write about one ad or another, as is the case with this post and the responses to Reynolds' ad.
One hopes that having sorted it out, we will cast informed ballots on November 8, regardless of the "equal-opportunity" smears and deception in so much of the election chaos.
So, here is a take on the race between Republican Jake Chapman, the Iowa Senate president, and Democratic State Senator Sarah Trone Garriott, who both wound up in the newly fashioned Iowa Senate district 14.
In the "politics ain't beanbag" way of things, Chapman gained some state and perhaps national notoriety when he opened the 2022 session of the Iowa legislature with accusations that public school teachers were corrupting Iowa youth. Chapman warned, "One doesn't have to look far to see the sinister agenda occurring right before our eyes. The attack on our children is no longer hidden."
To deal with the supposed harm caused by teachers, Chapman introduced Senate File 2198, which, among other things, would have sent teachers to jail for exposing students to books he considered obscene.
The measure, widely criticized, got out of the Senate Judiciary Committee but was never brought to a vote on the Iowa Senate floor. It remains, however, as evidence of Chapman's beliefs leading to his ad accusations that Trone Garriott is a "radical activist" and likely worse.
For her part, the Democrat certainly is an activist and perhaps "radical" in some eyes—but not in the Chapman context.
For disclosure, as a member of Faith Lutheran Church in Clive, I became acquainted with Trone Garriott when she served as our associate pastor before joining the Des Moines Area Religious Council in 2017. Her DMARC title is coordinator of interfaith engagement, working with youth and adults of various faiths, supporting DMARC efforts in food pantries and addressing other community needs.
If Chapman wanted to really nail down Trone Garriott as a radical activist, maybe he could have quoted from her "rap sheet." It's right there in Matthew 25: 35-36:
35 For I was hungry and you gave me something to eat, I was thirsty and you gave me something to drink, I was a stranger and you invited me in, 36 I needed clothes and you clothed me, I was sick and you looked after me, I was in prison and you came to visit me.
The rap sheet helps provide perspective for her service on the Senate committees on Education, Human Resources, Health and Human Services Appropriations, and Natural Resources and Environment.
And it pretty much covers all the aspects of her activism.
Fresh out of college, she worked with victims of domestic violence in New Mexico in an AmeriCorps VISTA (Volunteers in Service to America) program. She then entered the ministry, and was a hospital chaplain and a Lutheran pastor at a rural church in Virginia and at Faith Lutheran. At Faith she organized members of the congregation to visit inmates at the womens prison in Mitchellville. Her work in DMARC is what Matthew 25 is about.
Dealing with the Chapman-Trone Garriott race in terms of national concerns may be but a stitch or two in the turmoil of a national crazy quilt of concerns about our congress, president, judiciary, governors and on down the list.
Those concerns have led to the concept of "democracy fatigue."
One definition of such fatigue is "Political passivity and disgruntlement that stems from the exhaustion of seeing endless politicking, but never seeing change that makes lives better."
The quest for making lives better continues November 8. One stitch at a time, including in Senate district 14.
We've done it right at times — stuck as we are in Winston Churchill's assessment 75 years ago:
Many forms of Government have been tried, and will be tried in this world of sin and woe. No one pretends that democracy is perfect or all-wise. Indeed, it has been said that democracy is the worst form of Government except for all those other forms that have been tried from time to time.…
Herb Strentz was dean of the Drake School of Journalism from 1975 to 1988 and professor there until retirement in 2004. He was executive secretary of the Iowa Freedom of Information Council from its founding in 1976 to 2000.
Top photos of Jake Chapman and Sarah Trone Garriott cropped from pictures published on their campaign Facebook pages.
>>>#ad: Don't Miss Today's BEST Amazon Deals!
Originally Appeared Here