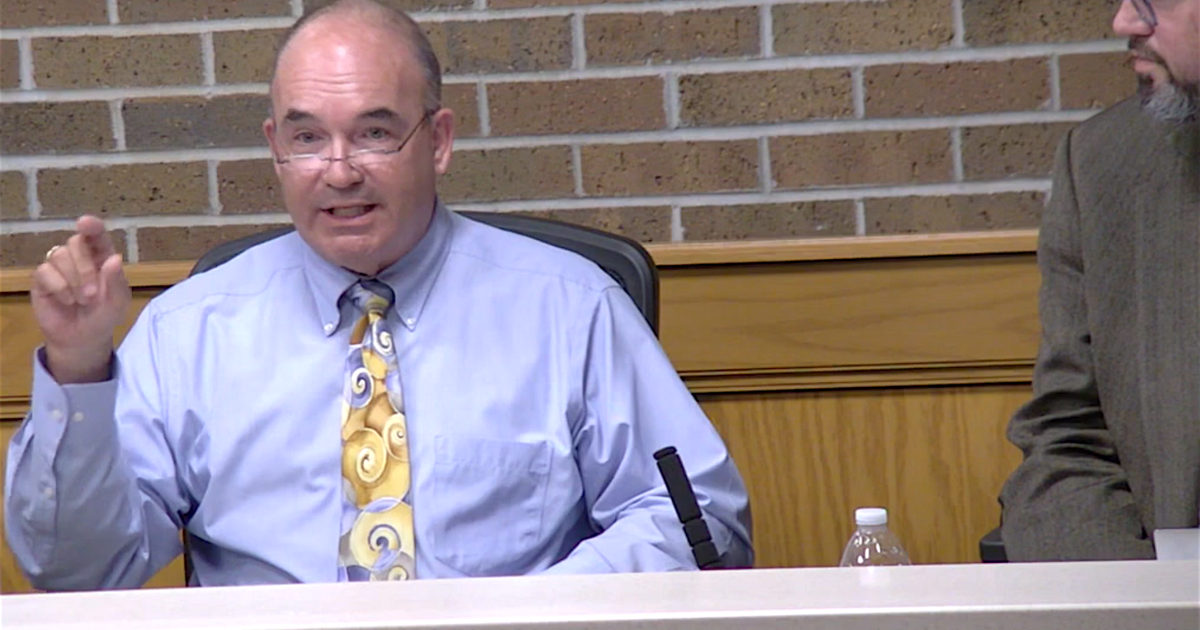 CADILLAC — This year's evaluation of Cadillac City Manager Marcus Peccia brought to the forefront questions about transparency and a call from two council members to change the process moving forward.
Cadillac City Council member Stephen King contends that a private correspondence between Mayor Carla Filkins, Mayor Pro Tem Tiyi Schippers and Peccia regarding his evaluation earlier this year was improper.
In particular, King said the correspondence included details about a request for a company car and other benefits that the rest of council wasn't made privy to until weeks later.
The information contained in the email correspondence — which was made public through a Freedom of Information Act request filed by former Cadillac mayor Bill Barnett — didn't differ substantially from what was eventually presented to the rest of council. However, King said there was one detail contained in the email that was never relayed to the rest of council, and that was the specific nature of the vehicle's use by Peccia.
During a special meeting called June 9 to discuss the compensation request, King and Schippers disagreed about the nature of the vehicle's use, with Schippers describing it at one point as a fleet vehicle that also could be used by other city employees, while King argued that for all intents and purposes, the city was purchasing a vehicle for Peccia's sole use.
In the email correspondence, the vehicle is described by Peccia as being "for the manager's exclusive use, including during non-working hours." King said he was "shocked" to find out that Schippers and Filkins knew this detail about the request and didn't say anything during council discussions about it.
"To say this creates a trust issue with me and the tax paying public is an understatement," King wrote in an email to council members and Peccia. "Discovering that these conversations went on with two members of council, without being shared with the full council, demonstrates the appearance of hiding and manipulating information from the full council and the public."
While King maintains that Filkins, Schippers and Peccia were wrong to discuss these matters without the rest of council in the loop, Filkins and Schippers say that information was not deliberately hidden from council and that they were simply following an evaluation procedure that had been in place for years.
Filkins said meeting with Peccia to discuss his evaluation without the rest of council present is something that the mayor had been doing even before she was elected, as it is a requirement of Peccia's employment agreement with the city. Peccia has been the city manager since 2009 while Filkins wasn't elected mayor until 2013.
The exact wording of Peccia's contract in reference to discussion of his evaluation with the mayor is the following: "… the Mayor shall provide the employee with a written summary of the findings of the Council and provide an adequate opportunity for the employee to discuss his evaluation with the Council."
Filkins said she eventually asked for another member of council — the mayor pro tem — to also be present during these meetings with Peccia.
Peccia told the Cadillac News that while the process has not been identical every year since he was hired by the city, for most of the time he's been here, he's met with the mayor before the rest of council to discuss the evaluation, including Barnett before Filkins was elected. Barnett said he couldn't remember if he met with Peccia or not.
Last year, King brought up concerns about the process following Filkins' and Schippers' private meeting with Peccia and said he felt that council should have voted on who would be present with the mayor during this meeting.
At that time, there was a discussion about changing the process moving forward, although no official vote was taken on the matter one way or another.
Council subsequently had some discussions about altering the process but wasn't able to implement any changes in time for this year's evaluation. As a result, Schippers and Filkins said they were under the impression that the process this year would be the same as years prior.
"It wasn't anything weird, different or shady," Schippers said. "It was just how things have always been."
"I simply continued the process," Filkins said.
While King agreed that the consensus was that they'd move forward this year with the same evaluation tools as previous years, he disagreed that this process also would include a meeting between two council members and Peccia to talk about his contract with the city.
"That's absolutely false," King said. "We discussed the process for providing feedback for Marcus and setting goals. There was absolutely no authorization for them to act as some sort of committee … there is a huge danger here. It looked like it was a done deal without providing council with full information."
Council member Bryan Elenbaas agreed with King, and added that while the mayor and another council member may be able to discuss the evaluation with Peccia per a contract stipulation, he did not believe they were in the right to discuss his benefits.
"It's been commonplace in the past for Mayor Filkins and Council Member Schippers to meet with Marcus to discuss his evaluation," Elenbaas said in a statement to the Cadillac News. "Even though agreeing not to continue this procedure, they met with him anyway. They attempted to negotiate the city manager's contract by agreeing to include a vehicle and gas card for Marcus' private use. This smacks of back-room, dirty Chicago politics and Mayor Filkins should be held accountable and censured. The citizens of Cadillac deserve better."
Peccia said it "has always been customary" to submit his compensation request to the mayor before the rest of council and added that what he submitted to Filkins was essentially the same as what everyone else on council eventually received.
Filkins said the reason she didn't share the email containing Peccia's compensation request with the rest of council members ahead of their meeting was that she didn't feel it was her place to do so.
Despite her reservations about disseminating information she believed only Peccia was at liberty to share, she said she still contacted King before the meeting to let him know that a new vehicle request was coming down the pike. She said she did this when she found out that city staff had already solicited bids on the new vehicle and wanted to move forward with it before the end of the fiscal year.
Moving forward, Filkins said she believes information regarding the city manager's compensation request should be made available to all city council members at the same time.
She added that it was "not the intention at all" to obscure the process or hide anything from council.
"We had no intention of being obtuse about it," Schippers agreed.
Council member Robert Engels said when it comes to requested salary and benefit changes, he supports the idea of Peccia sending his request to all city council members at the same time, although he also believes that the mayor and mayor pro tem meeting with the city manager to discuss the evaluation is a valuable part of the process.
"As long as the City Manager finds it helpful, it makes sense that he meets with the Mayor and Mayor Pro Tem, who is chosen by council, to discuss his evaluation ahead of time. I have no problem with that," Engels wrote in a statement to the Cadillac News.
Having a couple of council members meet with the city manager ahead of time to review the evaluation makes more sense, Schippers agreed, because it gives them time to process and absorb the feedback — some of it negative. Otherwise, they'd be blindsided by the evaluation in front of the entire council, and the process moving forward might not be as productive.
Peccia said while he does find it helpful to meet with the mayor ahead of time to discuss the evaluation, that doesn't mean he's not open to the process being "tweaked."
Additionally, Peccia said he'll likely be sending his future salary and benefits requests to the entire council at the same time.
>>>#ad: Don't Miss Today's BEST Amazon Deals!
Originally Appeared Here