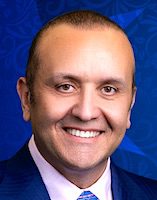 • Last week legendary longtime Chicago DJ/businessman Julian "Jumpin" Perez announced his departure from radio and promised to keep us posted on what he described as his "next chapter" — today, Perez announced his entrance into the exciting world of Chicago politics and his candidacy for Alderman of Chicago's 26th ward.
"I care about our community," Perez said. "My career was built, in part, in this neighborhood. My friends and family live here. I live here. I see firsthand where we flourish and where our shortcomings are. We've SEEN enough, we've HEARD enough, and we've HAD enough. The 26th Ward is in need of positive change, better programs, and more resources. ONE COMMUNITY FOR ALL."
Perez continued, "Crime in our city and neighborhood is out of control. Our community deserves to feel safe. I will bring residents and law enforcement together, to help increase public safety and bridge the gap of mistrust. We need new creative outlets and opportunities to empower our youth and prepare them for success. They will know that the community is here to support them. As the saying goes, 'It takes a village to raise a child.'
"Areas of the 26th Ward, including Division Street, are full of empty storefronts and lost opportunities," Perez added. "We need a reinvestment program to enhance our commercial corridors. Our residents go to surrounding neighborhoods to work, shop, dine, and for entertainment. Our neighborhood has the potential to be greater! Adding more businesses throughout the 26th Ward will bring more jobs, opportunities, and vibrancy to the area. Investing in our community will make the 26th Ward a better place to live, work and raise a family." We wish Julian the best as he embarks on his exciting new chapter. For more details about his candidacy, visit VoteForJulian.com.
>>>#ad: Don't Miss Today's BEST Amazon Deals!
Originally Appeared Here