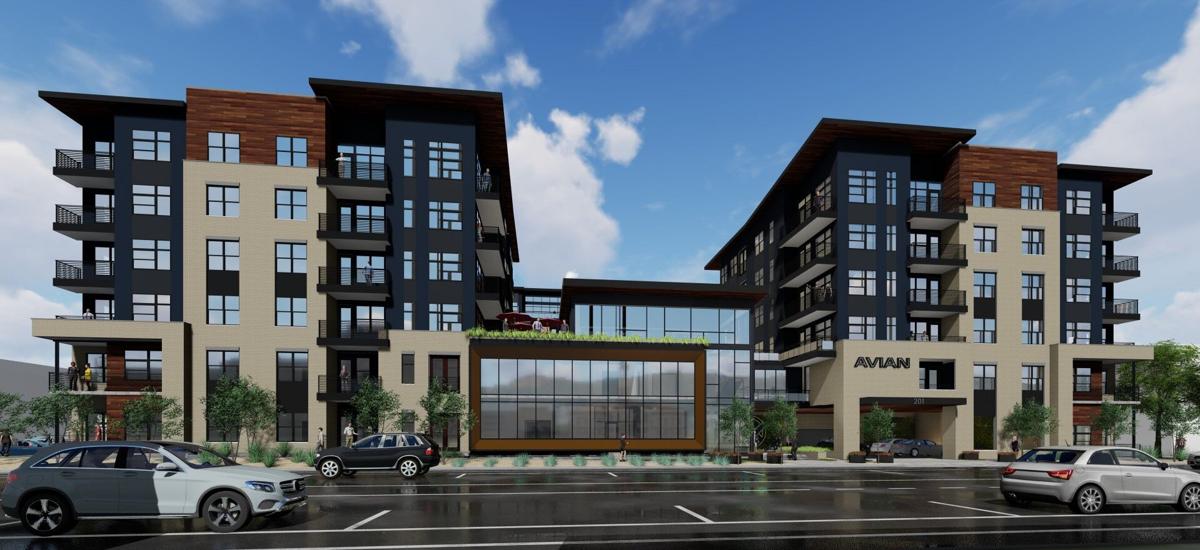 A Chicago real estate company that develops and acquires multifamily and student housing projects is entering the Colorado Springs market in a big way.
Jackson Dearborn Partners plans three apartment projects that would add a combined 892 units in downtown, on Colorado Springs' northeast side and in the unincorporated Cimarron Hills area of El Paso County, according to proposals it's submitted to city and county officials.
The company would join several out-of-state apartment developers who have invested in Colorado Springs in recent years, saying they were attracted, in general, by the city's desirability as a place to live.
Jackson Dearborn's website, along with plans submitted by the company to the city and county, show:
• The 168-unit Avian apartment building would be developed on the southeast corner of Weber and Cucharras streets in downtown Colorado Springs.
• The 346-unit Solace at Cimarron Hills would be built northeast of Powers Boulevard and Galley Road in Cimarron Hills, an unincorporated enclave just outside the city on its east side.
• The 378-unit Solace at Black Forest would go up southeast of Woodmen and Marksheffel roads in northeast Colorado Springs.

Second big apartment project in downtown Colorado Springs planned by national developer
Jackson Dearborn, launched in 2014, has done much of its development and acquisitions in the Midwest, but now has sought to expand to other areas, said co-founder Ryan Tobias.   
In Colorado, the company explored opportunities in Denver, Fort Collins and Colorado Springs, Tobias said. The wife of one of Jackson Dearborn's co-founders has family members in banking in unincorporated Falcon outside the Springs, which was one reason the company was drawn to the area, he said.
Beyond that personal tie, Jackson Dearborn liked the Pikes Peak region's quality of life, population growth and demand for apartment living, Tobias said.
Other developers from outside Colorado — some of whom have targeted downtown and the city's fast-growing north and northeast side — also have pointed to the arrival in the Springs of online giant Amazon, the In-N-Out Burger restaurant chain and Southwest Airlines as economic gains made by the city in recent years. 
"It's a sizeable metro with very similar sorts of job and population growth demographics to the Denver area, yet has not seen nearly the supply of housing come in," Tobias said of Colorado Springs. "And so, we just felt like there was an opportunity to be had and a demand to be met."
Downtown, for example, remains underserved when it comes to new housing, he said.
"There's a veritable flood of new projects coming in, but nothing has been built for 50 years," Tobias said of downtown. "You're barely scratching the surface."

Upscale apartment complex proposed for Colorado Springs' northeast side
Jackson Dearborn's downtown Avian project would have six stories above ground and one basement level, along with a 220-stall, on-site parking structure, according to plans it's submitted to the city. 
Last month, the company paid $3 million to acquire the Meininger Art Supply building and property at Weber and Cucharras, El Paso County land records show. Jackson Dearborn also paid another $900,000 to acquire a portion of the Midtown Apartments, a small, single-story building south of the Meininger property, from its California owner.
The Meininger and Midtown buildings would be razed to make way for The Avian apartment building, Tobias said.
The Denver-based company Meininger Art Supply, which was founded 140 years ago by namesake Emil Meininger and continues to be operated by his descendants, has been downtown since expanding to Colorado Springs in 1993.
During that time, Meininger has established a loyal following for its paints, brushes, drawing and craft materials, printmaking, sculpture and many other art and office supplies.
Fourth generation family member Henry Meininger said the store is looking for a new downtown location and expects to move by summer's end. 
"I've had great comments on the internet about our store and our employees down here," Meininger said. 
"I just like being downtown, because we're a destination business and most of our customers are downtown," he added. "We're, like, 20 minutes from anywhere in the city." 
At the Midtown Apartments, half of the building's 10 units are occupied, and Jackson Dearborn is seeking to relocate tenants from the property as their leases expire, Tobias said. Tenants are being offered free rent and relocation expenses as part of their move, he said.

Colorado Springs home prices again skyrocket to record highs
In a best-case scenario, Jackson Dearborn hopes to break ground on The Avian this year and open its first units in spring 2023, Tobias said.
Jackson Dearborn hasn't finalized land purchases for its Solace apartment projects, but has contracted to buy the sites, he said.
The company is targeting a groundbreaking for the Solace at Cimarron Hills project this year, with completion in 2023; the Solace at Black Forest would begin construction in early 2022 and be completed in late 2023. The projects would offer market-rate rents, Tobias said. In the fourth quarter of 2020, Colorado Springs-area rents averaged nearly $1,266 a month and have been climbing steadily over the last several years.

Colorado Springs 'housing crisis' threatens employers and economy, business leaders say
The downtown and Cimarron Hills projects also would be built in areas designated by state officials as federal opportunity zones, which offer tax breaks to investors who fund development within the zones' boundaries.
While attractive, the opportunity zone incentives weren't the primary reason for the company's interest in Colorado Springs, Tobias said.