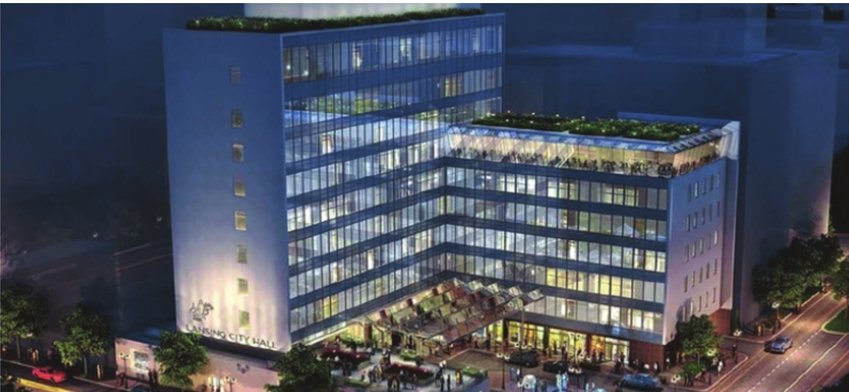 Staff
Mayor Andy Schor is off to a strong start in his second term as the city's chief executive officer, buoyed by GM's announcement of a $2.5 billion electric battery plant to be built in the Lansing region and the mayor's own unveiling of plans for a new performing arts center in downtown Lansing. What's next?
How about a new City Hall?
Picking up where former Mayor Virg Bernero left off, Schor has released a Request for Proposals for the construction of a new home for Lansing's municipal government. It's been a long time coming. Four years ago, the Bernero administration came within a whisker of closing a spectacular deal with Chicago real estate developer Paul Beitler that would have transformed the existing City Hall into a luxury hotel and renovated the former Lansing State Journal building on Lenawee Street to become the new City Hall.
The Beitler plan was a masterstroke of adaptive reuse of two key buildings in downtown Lansing and featured an innovative financing arrangement wherein the revenues from a 99-year ground lease for the old City Hall would pay for renovations needed to create the new City Hall. Thanks to expected construction of the performing arts center venue at the corner of Washington Avenue and Lenawee Street, plus a critical mass of new housing developments underway in the same area, repurposing the former LSJ building as the new City Hall looks even more attractive now than it did four years ago.
Alas, the Beitler project couldn't get across the finish line. At the end of his third and final term as mayor, Bernero handed off the deal to the incoming Schor administration, which promptly put it on a shelf to gather dust. At the time, Mayor Schor expressed concern that the proposal didn't accommodate a new city lockup or space for the 54-A District Court. Rather than coming up with solutions to those modest challenges, Schor punted the idea altogether and turned his attention elsewhere. 
We're still enamored with the Beitler plan. It is the standard against which we will measure any new proposals. Is there a chance it could be resurrected? We'll soon find out. Beitler invested a significant sum of money preparing his previous City Hall proposal and he may well be interested in making good on that investment by taking another run at the project. On the other hand, his taste for Lansing may have soured after being scorned by the new mayor. We encourage him to take another look.
In any case, we hope Schor's initiative to move the City Hall project forward is a genuine effort to cast a wide net and come up with a new development plan that will meet the needs of city government for the next 50 years or more. The process must be open and fair. We will be deeply disappointed if it turns out the RFP is merely a formality and that behind the scenes the skids are already greased for one of Schor's benefactors to win the project. When Bernero's RFP was released, a number of Michigan-based developers threw their hat in the ring, including Ron Boji, who has never met a government construction contract he couldn't win; Richard Karp, whose Arbaugh Building renovation on Washington Square was one of the early successes in breathing new life into downtown Lansing; and Harry Hepler, developer of the Motor Wheel Lofts. We won't be surprised to see one or more of them retool their previous proposal and pitch it to Schor.
As it happens, the mayor's plan to build  a downtown performance venue may turn out to be an important part of the City Hall puzzle. That's because the current home of the Lansing Public Media Center is the city-owned South Washington Office Complex, formerly the state's National Guard Armory. With plans to move the media center to the other building , the old armory could again become a leading candidate for reinvention as a new police/courts/lockup facility. In fact, plans were developed during the Bernero years to do exactly that. Mayor Schor should revisit them and consider the possibilities.
An even more compelling option, at least insofar as the courts and city jail are concerned, would be for Schor to relaunch discussions with Ingham County toward expanding the existing lockup facility in the basement of the Veterans Memorial Courthouse in downtown Lansing and moving the city's 54-A District Court to the same location. Given Schor's previous experience as a county commissioner, he should leverage his relationships at the county to get that conversation started again.
Our last piece of advice for Mayor Schor is to abandon the notion of consolidating the district courts in Lansing and East Lansing as a precursor to whatever comes next. Hell will almost certainly freeze over before court consolidation happens, and it shouldn't be used as an excuse to delay moving ahead with the City Hall project.
>>>#ad: Don't Miss Today's BEST Amazon Deals!
Originally Appeared Here