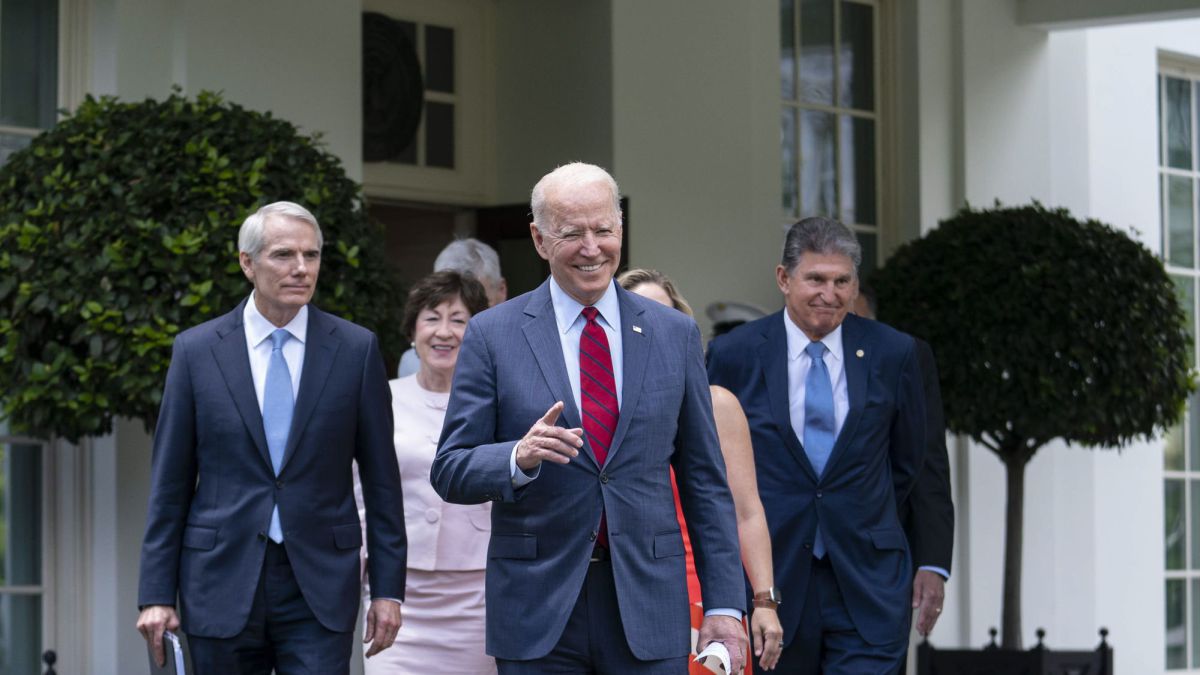 Breaking news out of Washington this morning, the White House and a key group of Senators have agreed on a new bipartisan infrastructure bill. The negotiations over this bill follow a series of talks that collapsed between Republicans and the White House over President Biden's American Jobs Plan.
One popular measure not included in this bill — another round of stimulus checks. However, some economic indicators like decreased consumer spending and personal income at the national level since March have motivated some organizations and lawmakers to push for another payment.
Why was a stimulus check not included in the package?
Many of the Senators who initially agreed to work together on an infrastructure proposal opposed the President's trillion-dollar plan that took a wide definition of "infrastructure," which included social aspects. 
These measures ranged from increasing wages for those in the care economy to a historic investment in the country's ability to fight climate change.  While many of these investments share widespread public support, in red and blue states, it was not enough to garner any support from the Republican caucus. Additionally, Senate Minority Leader Mitch McConnell has said in recent days that his party would have never supported a bill that increased the corporate tax rate to cover the new spending.
The new proposal, led by Senator Susan Collins of Maine, is much more focused on traditional investments in infrastructure, such as rebuilding roads and bridges. Since the bipartisan group of Senators was interested in a more "targeted" piece of legislation, they have left out nearly all of the benefits that would be sent directly to workers and families in the United States. This fact kills any chance that a stimulus check will be included in the spending package. For weeks, many have speculated that it is more likely for a cash payment to be included in the American Families Plan, for which negotiations have yet to begin.
What has President Biden said about the agreement?
In a statement describing what had been agreed to, the White House stated that President "remains committed" to all the aspects of the American Jobs Plan that will be left out of the present package. 
The White House has said that the President sees this package as a first step and the he "will work with Congress to build on the Bipartisan Infrastructure Framework in legislation that moves in tandem, and he is encouraged that both the House and Senate are working on budget plans that would do so."
What does the plan include?
The total value of the plan is $579 billion. The White House and twenty-one Senators agreed that the package would include new spending related to internet access, school bus electrification, physical infrastructure improvements, and more.
Physical and Transportation Infrastructure
President Biden, a major proponent of railways, touted the inclusion of over $66 billion to invest in passenger and freight railway systems. This investment would increase access for millions by "modernizing and expanding transit and rail networks across the country while reducing greenhouse gas emissions."
The plan also allocates over $100 billion to rebuild "roads and bridges with a focus on climate change mitigation, resilience, equity, and safety for all users, including cyclists and pedestrians."
Vehicle and Bus Electrification
The American Jobs Plan had allocated billions to begin building the charging infrastructure needed to enable electric vehicle transmission. While the plan does not allocate the amounts seen in the President's proposal is does include $15 billion to increase eclectic vehicle chainring infrastructure and begin the transition of American school buses from gasoline to electric models.
Climate
One key aspect of the Jobs Plan that did make it into this proposal is over $55 billion to remove lead pipes. This funding will ensure the delivery of clean drinking water to around ten million families, including Tribal nations.
The White House has said that the $21 billion for "Environmental remediation" is the " largest investment in addressing legacy pollution in American history, a cleanup effort that will create good-paying union jobs and advance environmental justice."
Many progressive Democrats have come out against the proposal as it allocates only a fraction of what experts believe the US must spend to combat the climate crisis adequately.
However, Senators, including Ed Markey of Massachusetts, have already said that they will not support the deal if these numbers are not increased or if another bill is not put forward to increase the funding to combat the climate crisis. In a press conference early last week, Sen. Markey told the media that the Senate "cannot let Republican calls for bipartisanship deny the American people the climate action they have been demanding."
>>>#ad: Don't Miss Today's BEST Amazon Deals!
Originally Appeared Here